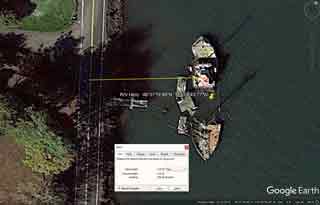 So...in August 2021 per this 31 August 2021 Chinook Observer article which included the above photo, the Washington State Department of Natural Resources announced a proposal to obtain custody of the derelict R/V Hero so that it could be removed from its resting place in the Palix River east of Bay Center, Washington.
Subsequently I have learned that a contract for the removal was awarded to Ballard Marine Construction, and after speaking with company VP Jared Bell on 23 November 2021, I learned that their next plans are to conduct a detailed survey of the sunken vessel on 3-4 January 2022 when a significant tidal exchange will occur--the tides will range from -2.5 feet to +12.75 feet. Ballard is acquiring an ADCP from a friend's company to help evaluate the estuary conditions so they can best plan the removal. At right is a recent Google Earth image of the Hero shared by Jared Bell.
Stay tuned...as of February 2022, the removal operation had been delayed, waiting for better water conditions perhaps in late spring.