Around the beginning of 2000, Norris sold the Hero to Bill Wechter, an ex-Coast Guard member who had also been an Alaska fisherman. Bill drydocked the Hero in Portland, Oregon, where the hull was repainted and recaulked and the rest of the vessel was generally reworked. This was the first drydocking in 10 years; below the waterline there was some worm damage, but the continually rumored dry rot was cosmetic. The main and mizzen booms did lose the battle to rot and required replacement. The machinery and equipment was all serviceable, and there were 2 sets of dacron sails. After the drydocking and other yard work, Bill took her to the new home port in Newport, Oregon, 130 miles down the coast from Astoria, in April 2000. The photos on this page are from Astoria resident (and former Siple comms guy) Jon Lingel who went along on part of the cruise down the Columbia River (I was invited but couldn't make it). The above photo shows the Hero tied up at the Maritime Museum in Astoria.
Looking up towards the wheelhouse from the main deck. Ah yes, looks
like the typical Astoria Rain Festival with which I'm well familiar.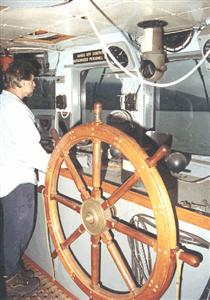 Bill Wechter in the wheelhouse. Looks like autopilot...
After the refit, Bill gave dockside tours and local cruises, beginning with a grand opening celebration during Newport Loyalty Days, May 5-7, 2000. That business has continued through 2003...
Okay, next, a brief spring 2004 update, along with more historical photos.