Hero: A New Antarctic Research Ship
Adjunct to Palmer Station Permits Diversified Research Program
[from the
Antarctic Journal
, May/June 1968]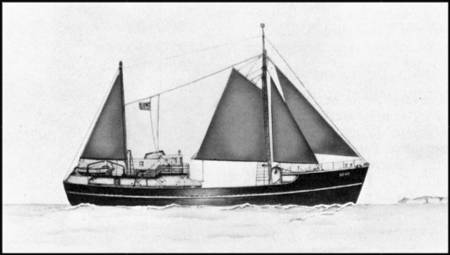 Artist's concept of
Hero
(NSF Drawing)
In 1820, a flotilla of five vessels left from Stonington, Conecticut, sailed across the Drake Passage, and dropped anchor in the sheltered waters of a group of islands now known as the South Shetlands. Its mission was to hunt the southern fur seal. Toward that end, the flotilla's leader, Captain Benjamin Pendleton, instructed Nathaniel B. Palmer, 20-year-old skipper of the sloop Hero, to explore the waters southward. Palmer sailed his 30-foot vessel first to Deception Island, crossed a broad strait toward the next high land visible to the south (Trinity Island), skirted it, and then saw a narrow stretch of water (Orléans Strait) between that island and a long, rugged coast backed by a high range of mountains (now known to be part of the Antarctic Peninsula) that lay still farther south. Fast ice kept Hero from reaching land, and Palmer was soon forced to rejoin the Stonington fleet in the Shetlands. Whether the young skipper found fur seals in commercially attractive numbers is not recorded, but it is likely that he saw many of them. In addition, he has been credited as being the first person to view the Antarctic mainland (1).
In recognition of that discovery, Palmer's name has been officially identified with the southern part of the Antarctic Peninsula (Palmer Land) (2) and with the U. S. research facility (Palmer Station) on Anvers Island, off the Peninsula's northern coast. Most recently, in further recognition of Palmer's bold voyage of discovery, the National Science Foundation named its new, 125-foot Antarctic research ship in honor of his sloop Hero.
The new Hero,, a diesel-driven, but sail-equipped, wooden trawler-type ship designed to round out the facilities at Palmer Station, was launched on the high tide of March 28, 1968, at South Bristol, Maine (see next page). By June, Hero's masts and rigging will have been added and she will have been thoroughly outfitted for a series of shakedown cruises. In late summer, when these have been completed, she will sail south towards the Strait of Magellan and her Antarctic port at Palmer Station.
Like her namesake, the new Hero will operate in Antarctic Peninsula waters, but, unlike the sloop, she will be devoted to research instead of commerce. Specifically, Hero will continue to scientific knowledge of the Peninsula and nearby waters as part of the U. S. Antarctic Research Program. In doing so, she will (1) transport scientists to points of interest on the Peninsula's coast and islands, (2) serve as an oceanographic station for biological, geological, and other studies inshore and along the continental shelf of the Peninsula, and (3) provide transportation between ports in Southern Chile nad Argentina and Palmer Station, as well as between Palmer and the scientific bases of other nations in the Peninsula region.
***
On several of her early cruises, the Antarctic research ship USNS Eltanin explored the Drake Passage, Scotia Sea, and waters in the vicinity of the Shetland, South Orkney, South Georgia, and South Sandwich Islands, including the northern fringes of the Weddell Sea (to about 67° S). Off the Peninsula's west coast, she has sailed within 50 miles of Adelaide Island. Icebreaker-supported investigations have been carried out in the waters immediately adjacent to the Peninsula as far south as Stonington Island. Other recent studies have been conducted by ships of Great Britain, Chile, Argentina, and the USSR. Much of the inshore area has not been studied, however. It is for this work that Hero and her supporting laboratories and logistics facilities at Palmer Station were designed.
Scientific Program
Throughout the austral summers, Hero will work in Peninsula waters. As the sea ice closes in, she will sail northward and operate during most winters from ports in South America (3). While in the Peninsula region, Hero will serve as a floating laboratory for investigations of both marine and terrestrial subjects--a unique arrangement, considering that most research ships are dedicated almost entirely to oceanic research. Her commitment to land investigations comes about because most of the Peninsula is accessible only by ship and ship's helicopters and boats, and, in the past, these have been available only occasionally to Palmer Station scientists. Hero will provide the first access to many coastal areas.
The ship will be equipped for hydrographic studies, bathythermograph lowerings, continuous water-surface and air-temperature recordings, bottom photography, precision recording, and piston and gravity coring. Normal over-the-side biological collecting gear will be available as needed. Because of limited berthing and laboratory facilities, the shipboard research will require highly coordinated planning. It is expected, therefore, that on each cruise, investigations will be carried out either by scientists from a single institution or by representatives of several institutions who have arranged mutually complementary studies.
***
During the survey [to site what would become Palmer Station], it became apparent to the investigators that research programs would be considerably handicapped when icebreakers and their helicopters or other means of transportation were not available. It was equally clear that exploiting the great research potential of the Peninsula region depended on having a ship equipped for marine biological research. It was recommended, therefore, that a specially equipped, shallow-draft ship be built to work along the inshore waters not accessible to the deep-draft icebreakers. Based on this recommendation, plans for U. S. research programs in the Peninsula region were developed around the combination of a shore facility and a research ship.
***
Planning for the research ship was done concurrently with the development of [Palmer Station] shore facilities. On November 24, 1964, the National Science Foundation awarded a contract to Potter and M'Arthur, Inc., Boston, Massachusetts, for the design of Hero. On July 11, 1966, after major features of the design had been worked out, the Foundation awarded a construction contract to Harvey F. Gamage, Shipbuilder, Inc., of South Bristol, Maine, [Note: Gamage Point, site of the current station, was later named after the shipyard--Bill] and work began in October of the same year. Arrangements for the contracts were made through the Maritime Administration, which assumed responsibility for overseeing all design and construction activities. Both the ship and the permanent station were scheduled for completion early this year so full operations on the Antarctic Peninsula could begin during the 1968-69 austral summer.
***
Features of the Ship
Like most trawlers and offshore North Atlantic draggers, built on the Maine coast, Hero is framed with large, native-oak timbers. Her mast and some interior work is of Oregon fir, and, in the tradition of ice-working vessels, her keel and sides are sheathed with tropical greenheart from Guyana, South America. Hero is markedly different from other ships of her class, primarily in the greater thickness and closer spacing of her framing. The ship's skeleton consists of an 18- by 18-inch keel and 6- by 6-inch framing spaced only 8 inches apart. Oak planking two inches thick overlies the framing, and the sheathing along the forward part of the hull--which will have the greatest contact with ice--is overlain by metal plating. Other unusual features of the Hero are the duality of much of her machinery and equipment, such as the double boiler, double engine, standby heating and circulating pumps, two generating power plants, and spare shaft, propeller, and sails.
Specifications

Length overall
Breadth, molded
Draft, normal
Range
Gross tonnage
Horsepower
Speed (approx)
Diesel fuel
Fresh water
Dry stores
Refrigerated stores


125 ft
30 ft, 4 in
12 ft, 6 in
5,000 nm
300 tons
760
11 knots
76 tons
30 tons
258 cu ft
220 cu ft

Hero has two large decks and a superstructure. The superstructure consists of the bridge, pilot house, navigation-radio room, and a small afterdeck on which the hydrographic winch and two nested dories are located. The main deck is enclosed at the bow to accommodate the hydrographic laboratory, located on the port side, and storage areas. It is exposed amidships to permit entrance to the hold and to allow for trawling operations and the storage of a 26-foot powered work boat. Immediately aft of this open section is a compartment containing the trawling winch and cable. Farther aft and amidships is the analytical laboratory, and adjoining it on the port side is the dissection laboratory, accessible from which is a large freezer for the storage of biological collections. The captain's cabin and berths for three crew members are located aft of the analytical laboratory.
The lower deck accommodations, from bow to stern, cabins for eight crewmen, mess, galley, three two-man cabins for scientists, a large hold for storage of equipment and supplies (in which bunks for four or five more scientists and a small instrument laboratory can be set up, or where as many as 10 persons can be accommodated on voyages between South America and Antarctica), a microbiology laboratory, the engine room, and spaces for three crew members. Fuel and water tanks are located below this deck.
Hero is rigged for all of the over-the-side operations required to conduct the scientific projects. The equipment includes an electric deep-sea winch of three drums (each side drum carrying 7,200 feet of 1/2-inch-diameter wire for trawling and the center drum carrying 600 feet of 1/8-inch anchor line) and a hydrographic winch with 12,000 feet of 3/16-inch wire.
Ketch-rigged, Hero can carry about 1,700 square feet of sail (mainsail, foresail, jib, and mizzen) to maintain control if her main propulsion system fails or to reduce roll while certain scientific operations are carried out. Use of the sail also permits silent-ship operations, which are desirable for acoustic work.
The main propulsion is provided by two 380-hp diesel engines connected to a single propeller shaft through a reverse-reduction gear. Two 60-kw AC generators provide the electric power, and two oil-fired steam boilers supply heat through a circulating hot-water system. Two evaporators supply fresh water by using excess heat from the main engine.
Sea Ice and Navigation
Hero's sturdy construction is essential because she will be operating alone in some of the stormiest, most remote waters of the world, frequently in close proximity to sea ice. During the austral summer, the west coast of the Antarctic Peninsula is usually free of ice as far as 66°S, although icebergs, bergy bits, and some fast ice are present along protected shores. Bransfield and Gerlache Straits and other inshore waters on the west, central, and northwest coasts are usually easily navigable in the summer, but are poorly charted. Most of the east coast is icebound during the summer; only its extreme northeast portion, in the vicinity of Joinville Island, is sometimes navigable, and then only with extreme caution. During the winter, pack ice may occur as far as 165 miles north of the Peninsula.
At present, there are no electronic navigational aids in the Antarctic Peninsula region. Although satellite-navigation systems will be used aboard ship, particularly when visibility is poor, great dependence will be placed on celestial observations. In addition, conventional sonar, echo-sounder, and radar will be used. Information on weather and sea-ice conditions will be gathered by a weather-satellite (Automatic Picture Transmission) readout facility at Palmer Station, and additional data will be relayed from the United States.
First-Year Operations
The National Science Foundation has awarded a three-year contract to Marine Acoustical Services, Inc. (MAS), Miami, Florida, for operation of Hero and the laboratory facilities at Palmer Station. The firm has selected Sidney Hartshorne as the ship's master. The remaining nine crew members have been selected, and the three men who will be based at Palmer Station will be chosen soon. [Shortly after the contract award, MAS was purchased by TRACOR, which in the late 90's became part of BAE. In the early 70's the support contractor was Hydrospace- Challenger, Inc. During the 1973-74 austral summer, Holmes and Narver took over operations of Hero along with all support staffing at Palmer. The initial crew manning of 10 was: captain, mate, chief and assistant engineers, two able seamen, two oilers, a cook, and a messman.--Bill].
It is expected that the builder's trials and the acceptance of the ship by NSF will have been completed by July 1968, at which time two months of sea tests will commence. The first month will be devoted to training the crew and testing the ship under a variety of weather and operational conditions near Boston, Massachusetts. In August, longer shakedown cruises will take Hero to the Grand Banks and Davis Strait to test her ice-working abilities.
Hero
at the pier during her first season at Palmer
(NOAA photo)
By late August, Hero will have completed her shakedown cruises and will have returned to Boston. She will then steam to the Washington (D. C.) Navy Yard, where an open house will be held in early September, thence to Miami, Florida, and on to Valparaiso, Chile, where she will arrive in mid-October. From there, she will proceed to Puerto Montt, Chile, to begin her first scientific cruise--a study of small whales and porpoises in Chilean waters. This study will be carried out cooperatively by an eight-man party from the University of California (Los Angeles) and Chilean scientists.
Upon completion of her work, Hero will leave for Palmer Station, where, in late December 1968, she will begin her support of Antarctic research. Her operations there will continue until April 1969, at which time she will return to Tierra Del Fuego for further scientific investigations.
One of Hero's early Antarctic cruises will be to Deception Island to study the effects of its recent volcanic action on marine life. On her way to Deception, as she begins her crossing of Bransfield Strait, Hero will pass the entrance to Orléans Strait--the body of water to which Nathaniel Palmer sailed the first Hero almost 150 years ago en route to the discovery of the Antarctic mainland. Conditions will be quite different, however. Whereas the sealers of 1820 were competing fiercely in the search for new sealing grounds, today's scientists--of many nations--work in harmony in the quest for basic knowledge.
---
Footnotes
1. The British sea captains William Smith and Edward Bransfield, in the brig Williams, and the Russian captain Thaddeus Bellingshausen, in Vostok and Mirnyy, have also been credited with the first sighting of the Continent [sic; his discovery was almost a year later than the Bellingshausen and Bransfield sightings].
2. The Peninsula was previously known by different names in different countries (Palmer Peninsula to the United States). In 1964, the United States and United Kingdom agreed to call it the Antarctic Peninsula; subsequently, several other Treaty nations have accepted this name.
3. In September 1965 and August 1966, reconnaissance flights were made over the Bransfield and Gerlache Straits and as far south as the Argentine Islands to examine winter sea-ice conditions (Smith, 1966). Observations indicated that Hero probably could work safely in these waters during the winter, but that difficulty would be encountered making a passage to South America through the wide belt of pack ice north of the South Shetland Islands. Hence, there are no immediate plans for Hero to remain in Antarctic waters in the winter.
---
References
Bertrand, Kenneth J. 1967. A look at Operation Highjump twenty years later. Antarctic Journal, II (1) [January-February 1967]: 5-12.

Holdgate, M. W. 1963. Observations of birds and seals at Anvers Island, Palmer archipelago, in 1955-58. British Antarctic Survey, Bulletin, 2, 45-51.

Hooper, P. R. 1962. The Petrology of Anvers Island and Adjacent Islands, London, Her Majesty's Stationery Office. (Falkland Islands Dependencies Survey, Scientific Reports no. 34). 69 p.

Smith, Lewis O. 1968. "Operation Windmill." Antarctic Journal, III (2) [March-April 1968]: 23-36.

Smith, Philip M. 1966. "Antarctic Peninsula winter reconnaissance flight. Antarctic Journal, I (6) [November-December 1966]: 373-374.

[I've quoted verbatim the portions of the article "Hero: A New Antarctic Research Ship" from the Antarctic Journal, May/June 1968, dealing with Hero. The article also included extensive discussions on Southern Ocean research as well as the development of Palmer Station, which I've not included here.--Bill]


Next, the launching of Hero.