In March of 1985 the Port of Umpqua (Reedsport, about 140 miles north of the California border on the Oregon coast) acquired the Hero from NSF for $5000 through a U. S. Government surplus property disposal program. Later that year a group of local citizens formed the nonprofit International Oceanographic Hero Foundation to preserve and promote the Hero as part of an educational research center and museum.
Below, a 24 February 1986 Eugene Register-Guard article describing the plans for the vessel:

I took these pictures when I visited Reedsport in July or August of 1986. I met with several foundation members including Merv Cloe, a former port commissioner, and I had an opportunity to tour the vessel. At left is a stern view, and at right is an enhanced small closeup view of the nameplate.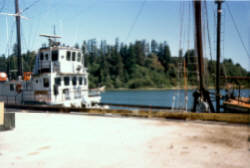 A view of the upper decks from the pier.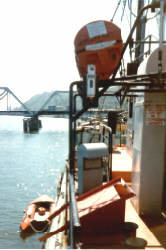 The photo at left is looking forward from the port side along the main deck. Note the Zodiac, which is the type of small craft used with the Hero in later years. In the old days there were wooden dories, just a bit heavier and harder to handle.

The wheelhouse.
Looking forward from the wheelhouse. This was the first time I've seen the Hero (the second time was in Newport, OR, at the Palmer Team 77 reunion in September 2006). I was shown around the vessel by resident caretaker and skipper Jay Morrison, who was keeping the Hero in operational status during the 1986 summer. He also drove her on the occasional tour around the Umpqua basin. Jay had been on the crew during the last year of Antarctic service. I didn't know it at the time when I met him (and didn't know to ask), but before that he had wintered at Pole in 1980.